Blow molded parts serve the telecommunications industry in many ways. They are used in connection boxes, terminal boxes, splice covers, pedestal domes, underground markers and other products for copper cable, fiber-optic and wireless providers. Blow molded parts protect Microwave and Wi-fi equipment for wireless-system providers.
Splice Covers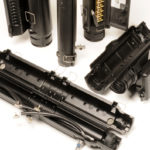 Blow molded splice covers and terminal boxes provide the best long-term protection for vulnerable splice and wire connection points. Blow molded glass-fiber connector boxes with light-bend radius control help fiber-optic systems work better. Blow molded Splice covers are frequently guaranteed for exposures over 20 years and the double-wall construction guards against small animal & insect entry better than typical covers. The blow molded covers also cost less.
Enclosures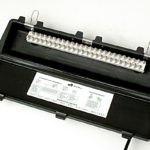 Switches, terminals, routers, signal boosters, RF generators, all types of equipment and connections benefit from blow-molded enclosures. Double-wall blow molded parts can be as strong as steel yet cost a fraction of the price. Animal, insect, environmental and electromagnetic effects can be defeated. Whether you need frequencies to pass through freely or prevent frequencies from penetrating, enclosures from Custom-Pak can provide the security you need and the features you want.
---
Tanks & Tubes ~ Seating ~ Appliances ~ Transportation & Automotive ~ Housing & Construction ~ Medical Products ~ Electronics & Utilities ~ Telecommunications ~ Chemicals ~ Food ~ Signs & Displays ~ Wheels