Custom-Pak offers a one-stop total package of quality, price and
service.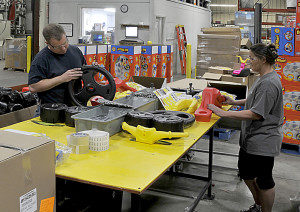 We provide complete & accurate product assembly and pack-out.
We provide for the detailed needs of retailers like security tagging, display cartons or returnable packaging. Our warehousing operation offers, just-in-time shipping by air, rail, truck & major parcel services with 24 hour access.
Our competitive subcontractors provide injection & rotational molding, metal components, painting, and a wide variety of assemblies. We make sure you get your money's worth. With on-line EDI and web based direct communication we assure smooth delivery performance.
On-site warehousing, distribution and fulfillment services can deliver one carton or 100 truckloads to your required destinations in a single day.
Our 44 year history gives you experience, technical capabilities and value that are unmatched in our industry.
If you need it, we provide it.