A new generation of blow molded signs & displays attract more attention, are simpler to set up, require less maintenance and outlast other signage. Don't let customers pass you by. Contact Custom-Pak to see some of the best sign and display designs that are coming to locations near you.
Signs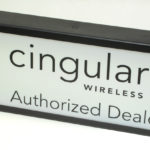 Blow molded signs from Custom-Pak announce everything from real estate for sale & dinner specials to wet floors & event parking. Our signs convey your message in virtually any shape — round, wide, tall or shaped like a product. They are rugged, low cost and perfect for both indoor and outdoor use. Let Custom-Pak make your sign project a success.
Point-of-Purchase Displays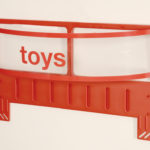 A crooked or broken point-of-purchase display doesn't move products. Blow molded displays have simple-to-build construction and the strength to survive set-up by untrained store personnel. Signage is easily applied and costs are competitive with basic cardboard. Let Custom-Pak turn your idea into a great blow-molded display and then enjoy the sell through.
Structural Displays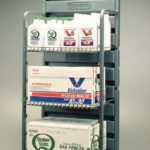 Batteries, drinking water and paint are just a few products that require strong displays. Blow molded displays are the choice because they combine simple-to-assemble interlocking designs with structures that support a lot of weight. Blow molding can also incorporate the store display into the shipping container for maximum value. Ask the engineers at Custom-Pak to meet your requirements.
---
Tanks & Tubes ~ Seating ~ Appliances ~ Transportation & Automotive ~ Housing & Construction ~ Medical Products ~ Electronics & Utilities ~ Telecommunications ~ Chemicals ~ Food ~ Signs & Displays ~ Wheels