Blow molding works hard in the construction industry. Most heavy equipment contains blow molded parts. Blow molded forms help shape foundations. And blow molded parts build homes and offices, while protecting construction sites and keeping workers safe. Custom-Pak can make your construction projects run smoother, faster and less expensively.
Construction Equipment Products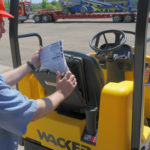 Equipment operators need information and tools to do their jobs. Custom-Pak provides the Manual-Pak for storing operating instructions.  Visit www.manual-pak.com for more information on Manual-Pak. We mold compartments to hold equipment specifically needed for each machine. Blow-molded parts also surround operators to provide convenient control and comfort.
Concrete Forms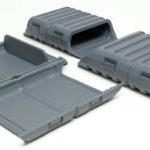 Blow molded plastic is ideal for concrete forms of all shapes and sizes. The double- wall structure provides great support and allows independent design of the contact surface detail and the outer connecting side details. The slight flexibility of blow molded panels speeds set-up and tear down. They never rust or stain the concrete. Let us show you the advantage of blow molding today.
Barricades & Highway markers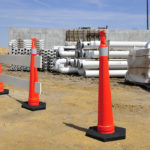 Barricades and traffic markers seem to be everywhere. The ones that survive the longest are blow molded. They also have the lowest purchase price. We can custom make the exact traffic control products you need or you can buy many of the most popular products online at www.Traffic-Pak.com. Check our pricing before you start your next project.
---
Tanks & Tubes ~ Seating ~ Appliances ~ Transportation & Automotive ~ Housing & Construction ~ Medical Products ~ Electronics & Utilities ~ Telecommunications ~ Chemicals ~ Food ~ Signs & Displays ~ Wheels