Blow molding provides the safest containment for shipping and storing almost every chemical compound. Custom-Pak engineers are experts at adding functionality to chemical containers. Our systems provide easier handling, improved shelf life, better identification, lower permeation, controlled dispensing and other benefits that help the package deliver more than just your chemicals. Take advantage of our free design services to see the advantages.
Containers
We design and produce blow molded chemical containers for both industrial and consumer applications. Industrial containers are typically heavier gauge and incorporate features that work with manufacturing or logistics systems. Consumer containers are more price sensitive, must be attractive and assist the consumer in using the contents. We can make any container work better. Let us demonstrate how.
Dispensers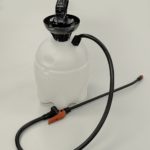 Consumers need safe, accurate systems for dispensing chemical products. Custom-Pak containers offer patented features that help control dispensing of liquid and solid chemicals reducing the chance for spills and improving the dose or pattern accuracy. We also produce containers that deliver liquid chemicals under pressure. Blow molding changed the paint-container industry and it can do the same for your products. Bring your challenges to Custom-Pak for the best dispensing results.
---
Tanks & Tubes ~ Seating ~ Appliances ~ Transportation & Automotive ~ Housing & Construction ~ Medical Products ~ Electronics & Utilities ~ Telecommunications ~ Chemicals ~ Food ~ Signs & Displays ~ Wheels