Furniture and seating makers have discovered that blow molded parts can be stronger than steel yet light enough to float. Design is independent from one side to the other, material stiffness can be varied and you can inexpensively create amazing free-form shapes. Custom-Pak can help generate seating concepts that will put you years ahead of your competition.
Office Furniture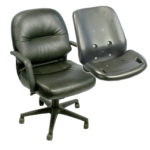 Blow molding helps office furniture makers offer sleek designs at low costs. Nearly indestructible double-wall structures contain molded features that allow easy automation of fabric or foam assembly. Blow molded shapes can meet ergonomic needs on one side and aesthetic needs on the other. Walls can be compressed for wafer-thin designs, expanded for over-stuffed designs or precisely varied for combination designs. Let Custom-Pak help you design great furniture at prices that will win markets.
Furniture Components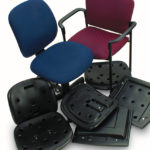 Blow molding is the economical choice for durable furniture components. Bolsters, pans, struts, arms, backs, bellows and specialty parts are used in furniture making to provide added strength and reduce cost. See how well blow molded parts enhance the look and strength of your furniture while providing substantial savings.
Home Furniture
Sofas, ottomans and lounge chairs need to support the people using them. Blow molded parts offer strength inside that makes furniture more durable and more comfortable than wood or steel framing. Outdoor furniture benefits from the weather resisting longevity of properly formulated plastics.
---
Hardware, Lawn & Garden ~ Sporting Goods ~ Housewares ~ Toys ~ Furniture