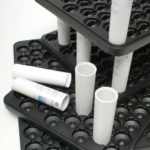 Blow molded returnable packaging works because the durability of the blow molded returnables keeps parts in perfect condition for dozens of trips even when moved between nations. Fold-up & knock-down designs save space and reduce logistics costs. Blow molded trays, totes and bins provide safe, secure handling and can perfectly organize component parts to aid automation.
Reusable packaging has repeatedly proven to be the low cost solution by offering long term durability and improved product protection. The environmental advantages of blow molded returnables are simply a bonus that most customers appreciate. We encourage use of our recycled materials whenever possible. Our recycled resins comply with N. American & European chemical safety regulations and perform comparably to virgin resins in many applications.
Let us design the right returnable package for your products.
---
Carrying Cases & Chests ~ Bottles & Containers ~ Returnable Packaging ~ Custom Packaging ~ Dunnage