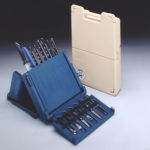 Certain products require special packaging. Custom-Pak is the leader in meeting difficult packaging designs with cost effective, innovative solutions. Our design team will create and produce the economical package you want with consistent quality.
Whether you need high-style presentation, precise organization, product protection, special functions or all of the above, the single, double, triple and quad wall structures available with blow molding provides creative opportunities that require several pieces to duplicate using competing processes. Low cost tooling also lets you add features that would otherwise be prohibitive.
Let Custom-Pak tackle your toughest packaging problems.
---
Carrying Cases & Chests ~ Bottles & Containers ~ Returnable Packaging ~ Custom Packaging ~ Dunnage